When Brady Hoke was hired as the head footbal coach for the University of Michigan, he inherited a defense that, was the worst in history of the program. It was a defense that, had been
ravaged with injuries and attrition over the last three years.
They were, a young and inexperienced unit, who had not seen any sense of stability at the DC. The team had 2 DC's in the last 3 years and 3 within the last 4.
Rich Rodriguez was and always will be, an offensive minded coach, who seemed to pretend that other teams can't score touchdowns and would prefer to only be involved in the offensive gameplan. In 2009 Greg Robinson was brought in to mend what was obviously a broken unit. His resume was smitten with various degrees of success at the professional and collegiate level. He came to us from Syracuse where his recorded as a head coach was 9-27 and his defenses (remember his specialty) went from 57th overall to this...
| Year | Team | PassEff | Rush | Scoring | Total |
| --- | --- | --- | --- | --- | --- |
| 2008 | Syracuse | 101 | 101 | 101 | 101 |
| 2007 | Syracuse | 109 | 108 | 104 | 111 |
| 2006 | Syracuse | 81 | 110 | 72 | 107 |
Robinson, throughout the majority of his career had worked under an aggressive 4-3 defensive philosophy. He came to Michigan with the intent of running a 3-4 hybrid-esque defense. But, by 2010 Rich Rod decided it best to go with what was successful for him at West Virginia and move the team to the 3-3-5. One Problem, Greg Robinson had no familiarity with that style of defense and by the end of the 2010 season, our players were experimenting with magical stuffed animals being rubbed in their faces.
Even if Rich Rodriguez was still the head coach obviously, it was time for yet another change to the DC position. I personally don't believe Rich Rodriguez would have been able to pull in a DC with even remotely the same amount of success as Brady Hoke was able to do when he convinced Greg Mattison to come back to Michigan to take the same position.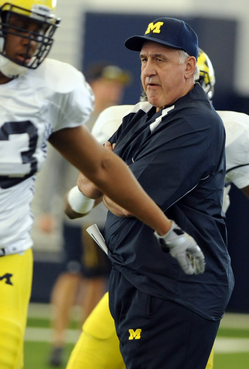 Greg Mattison was an vital part in getting that vaunted 1997 National Championship defense to where they were serving as Michigan's defensive line and DC from 1992-1996, where he worked alongside Brady Hoke. Mattison then took a like role at Notre Dame until 2004. After 2004 Mattison, became co-DC at the University of Florida partnering up with current Louisville head coach Charlie Strong. He served that position until, 2008 where Mattison, moved to Baltimore to become the DC for the Baltimore Ravens.
I was having a difficult time, pulling information from Mattison's Notre Dame years but was able to find good statistics on Mattison's defenses at Florida and Baltimore.
| | | | | |
| --- | --- | --- | --- | --- |
| Florida | 2004 | 2005 | 2006 | 2007 |
| Rushing Defense | 53rd (141.9) | 10th (94.9) | 5th (72.5) | 10th (103.3) |
| Passing Defense | 46th (203.67) | 28th (204.92) | 33rd (182.3) | 98th (258.54) |
| Pessing Eff. Def | 27th | 25th | 4th | 71st |
| Total Defense | 42nd (345.58) | 9th (299.830 | 6th (255.43) | 41st (361.85) |
| Scoring Defense | 31st (21.1) | 18th (18.8) | 6th (13.5) | 46th (25.5) |
| | | | |
| --- | --- | --- | --- |
| Ravens | 2008 | 2009 | 2010 |
| Rushing Defense | 3rd (81.4) | 5th (93.3) | 5th (93.9) |
| Passing Defense | 2nd (179.7) | t-8th (207.3) | 21st (224.9) |
| Total Defense | 2nd (261.1) | 3rd (300.5) | 10th (318.9) |
| Scoring Defense | 3rd (15.3) | 3rd (16.3) | 3rd (16.9) |
Take a look at those numbers... If that doesn't make you go all, Kip in Napoleon Dynamite about this hire,
than I am not quite certain that you and I will ever be on the same wavelength. This especially from a coaching standpoint was a slam dunk of a hire. To go along with his on the field success, Urban Meyer had this to say about his ability on the recruiting trail, while on the set at ESPNU..
"He's not only one of the best defensive coordinators in America, but also the best recruiter in college football."
That's high praise from a great coach and recruiter himself. The recent success by Hoke and his staff is I believe in direct correlation with Meyers comments, especially when you look at all of the high class defensive recruits being brought in. (More informative catch-up post on recruiting to come soon.)
The true test for Mattison, will be how can he get the back 7 to improve from the previous years. Michigan has a solid unit coming back on the front line. This defense as whole was fundamentally bad last season, especially their inability to do something vial to winning football games, tackle. How soon will Mattisonn and the defensive staff be able to bring the young players along? One thing we do know is that it can't get much worse than it has been.
Brady Hoke brought in a man, who understands Michigan, is a proven college coach, and was at the helm of one of the top 5 defenses in the NFL for the last 3 seasons. I don't expect Michigan to jump into that top 50 category that Mattison's defenses were at Florida or the top 10 caliber defenses he had at Baltimore immediately. I do however think that the team is well on its way. With good production from the front 4 to help out the secondary and Mattison in charge I expect the defense to be significantly better than the past 3 seasons. There's only one thing going against Mattison in my eyes, he doesn't have this head of hair...
May your hair live in infamy GERG.
It will be an exciting time and we should expect to see improvement hopefully sooner rather than later. Next up, Al Borges. As always, Go Blue.