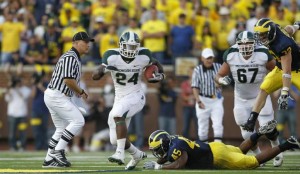 See a theme with these pictures?
The Low Down:
What happened to the 2007 version of Obi Ezeh? You know, that guy that played along side Crable, and Chris Graham, on a defense that stifled the Florida Gators in the Citrus Bowl? He at one time looked serviceable and appeared to have potential. Two defensive coordinators later, he was projected as a co-starter with Mark Moundros who, until last year was a specialist at fullback. Well, Rich Rodriguez didn't need a fullback and Obi Ezeh, didnt play downhill, waited for plays, and was just no longer any good. The implementation of the 3-3-5 forced Craig Roh to play out of position, get his hand out of the dirt, and read and react as an OLB (outside linebacker). Jonas Mouton seemed lost in pass coverage, except for that one magical play against Notre Dame. It's still a mystery why Kenny Demens was behind Moundros and Ezeh on the depth chart to begin the season, but clearly at the end what we saw was an upgrade.
The heat to win was on and Rich Rodriguez hit the panic button and forced a 3-3-5 onto Greg Robinson, hoping to emulate the success he had at West Virginia. The only problem was as
stated earlier on this blog
, Greg Robinson had no clue how to run a 3-3-5 and it was no more evident than by the simple alignment of the linebackers in particular. Here is the alignment Michigan had last season...
Courtesy MGoBlog.

As you can see the linebackers are lined up directly behind the down lineman. This is bad. Simply put the problem is aligning that close to the line of scrimmage is that it allows offensive lineman to get the to second level quicker opening up lanes. Even if you plug some lanes, you're leaving wide open cut back lanes (think the Wisconsin game). Here's what West Virginia looked like when you know, their defense was good...
Thanks again MgoBlog
Do you see that, isn't it clear? Those LB's are what, 6 yds off the line of scrimmage except for the guy who is obviously blitzing or at least disguising his blitz. Linebackers have to be able to read and react and play downhill. Lining up a yard or two behind the lineman does not allow you to do this.
1 Year Later:
Jonas Mouton and the enigmatic Obi Ezeh are off to try their hands at the NFL. We now have a DC who spent the last 3 years working with the likes of Ray Lewis and Terrelle Suggs. I'm excited to be done with the defense quickies so I don't have to discuss that 3-3-5 was crappy on all accounts and that we have this new fangled 4-3 defense that is going to be, in my honest opinion, oh so much better. Alas, the fact remains, we have this new 4-3 defense that I suspect will utilize the talents and free up the LB's to make plays. So who do we have to fill these positions?
Kenny Demens returns with a year of experience at MLB, and
practice buzz says he's locked that spot down
. Craig Roh has been moved back down onto the d-line. Cameron Gordon has added weight and moved down into the box as the SAM linebacker and I suspect will be able to hold off Jake Ryan, who stirred up a lot of buzz in the spring. At the Weakside Linebacker, JB Fitzgerald and Brandon Herron will fight it out.
Expectations: What is them?
You'll notice a theme here with the defense and I'll give you a hint, it'll rhyme with immovement... Improvement and let me tell you, I'll be damned if anybody can convince me differently. Obviously just how much, will be a question until the team can be seen on the field (by the way I'm a huge proponent for at least 1 preseason game in college football). In the 3 years of the RR regime, Michigan's LB's averaged just under
4 sacks/yr
and our rushing defense ranked
35th, 85th, and 95th in the country.
Greg Mattison has said this defense is going to
be more aggressive and more of a blitzing defense
, so expect the linebackers to be causing more havoc in the backfield sacking the quarterback. Also, the linebackers will now have 4 down lineman for the opposing offensive line to handle, which should allow them to read and react more freely, not to mention they won't be lining up 2 yds off of the line of scrimmage anymore. I think a reasonable leap in rushing defense is expected maybe somewhere in the average of the last 3 seasons which would put somewhere around 70th nationally. For reference, Arkansas was 70th last season allowing, 162.62 yds/gm, Michigan allowed, 188.92 yds/gm. If they were to jump up to hypothetically in the top 50, you'd have to see about a 40 yds/gm improvement, which is quite a bit to ask/expect. But like John Lennon said,
You may say I'm a dreamer, but I'm not the only one.
One move to keep an eye on, and I think will help this defense immensely is Cam Gordon at the SAM position. The kid plays with a mean streak and has the experience and athleticism I believe to be decent to good in pass coverage and has added weight to be able to come up and attack the run. So, all in all, "blah, blah, blah, improvement, blah, blah, blah". Up next, The D-Line. As always, Go blue.