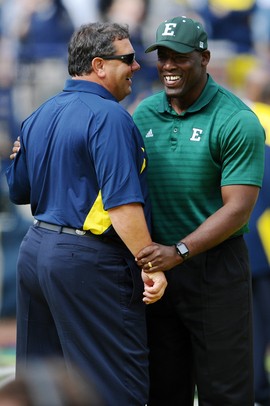 Brady Hoke & Ron English discussing the craziness that is Denard under center...
Do you think Brady Hoke is discussing how dumb he realizes MANball is here, when he has Denard Robinson at his disposal? Probably not here but, if Al Borges and Hoke haven't realized it by now than we are in for 12 games of ridiculously sloppy offensive first quarters. Where upon, by the end of said first quarter a bolt of lightning will strike Borges in the head reminding him we had to run Denard 29 times to beat Eastern. As inadequate as the defense looked on those first few EMU drives, the offense looked like Akron going against the Alabama defense. If you've allowed your mind to remember anything from Notre Dame that isn't the fourth quarter you'll remember all those early game drives that made you do nothing but face palm.
12 plays, 32 yds. Interception, Punt, Punt. Guh... Denard went on the rest of the game being Denard and Michigan won 31-3. Minus the first 2 opponent drives of games, I'm scarily allowing myself to pseudo-like our defense, which my reasoning I will discuss, but they've consistently shown enough this year to make me not hate them...
Offense:
I have to call myself out. When this season started, I didn't predict that the minimal MANball, our offense would run would be a very difficult transition. I was... what's the word? Wrong, that's it, I was wrong. Power-I couldn't be run against Eastern. When Denard isn't tossing up rainbows to Junior Hemingway, he's looked shaky and I haven't done a statistical analysis but the structures of common knowledge would lead me to bet that, YPC is significantly lower than runs out of the gun. Running zone for 3 years straight doesn't translate into man blocking well and I thought it would. Other than being tall, lengthy, and remotely fast, this is why I didn't play Offensive Line.
After 3 series of this MANball, I-formation stuff not working, Denard got to be Denard. Thus ensued Michigan racking up 376 yds rushing, because the threat of Denard, handing off, running, or throwing is much scarier to a defense than, him sitting in the pocket, frantically panting the ball, or handing it off to a running back going straight up the middle.
I mean you guys have all seen it too right? I can think of Vincent Smith's long run, the Koger TD pass, and the Dileo TD pass all prime examples of why Denard being the focal point of this offense needs to stay true for the next 2 seasons. Sorry MANball but you will have to wait while we have a, dreaded water bug as our QB. Kudos to Borges, because he's saw what was happening, realized how he's going to win games and strayed far, far away from whatever that is, that we try to run from under center from time to time.
Passing the ball has scared me. I feel like Lloyd Carr on 3rd & long every time their is a pass. Denard has taken steps backwards, and I don't know why. It'll be interesting to see if the passing game starts to reflect the running game and digs into the Rich Rodriguez playbook.
Defense:
Why this defense always starts out slow is beyond me. The logical explanation is that Mattison is feeling the opponent out. Well, if that's the case... Stop feeling the opponent. Howeva, if you were to tell me that Michigan would be tied for 5th in the country in turnovers forced I'd have called you a liar. So if cupping a good feel on our opponents will lead to turnovers I'm all for it. The defense gave up 196 yds in first half (147 on first 3 drives) and Eastern only gained 236 on the day.
Let me be sentimental for a moment here. I love a defense that can adjust mid-game. It's like having a crush on the pretty girl and finally getting her. At first you're just infatuated and angry that it's not working out and then something clicks you change your approach and boom. You got the girl. Now, this is probably an exaggeration. Well, not probably, it is, we aren't that good yet. But, allowing that few points and that few amount of yards against anybody after the past 3-4 years was rewarding and the signs of an improving defense are there.
Eastern never really threw it so judging our secondary on the day is difficult. Thomas Gordon is looking better and better and that interception was smooth. Allowing outside runs to break contain is a concern on the DL. I like Jake Ryan to keep improving and hopefully the problems that have plagued him are coachable and he can hold that spot down.Craig Roh finally let the opponent know he was on the field and made some plays. My season prediction of 12 sacks is looking bleak but one can hope. Jibreel Black has also been a positive on the D-line, rotating in for Roh. Also, unless I'm my eyes are blind to what I hope to see, William Campbell has not looked bad when he's seen the field. Let us all hope this continues.
Greg Mattison is a great coordinator. He can, as they say, in the cool defensive circles, "adjust".
Special Teams:
Michigan has made 100% of their field goals. Jeremy Gallon can field punts and do something after catching all the while, I don't need to scream at the television for him to hold on to the ball. This is improvement.
Let's not squib kick at the end of the half ever again okay?
Good Feeling To Take Home With You:
Al Borges isn't going to regulate one of the greatest talents in America. He will play to his talents ie.) Denard. Something else Borges did very well, was setting up plays out of the zone-read. It was really nice on the Dileo touchdown pass to go back watch the game and see how the 3-4 plays ahead of that set that play up. The dude can call plays and at the end of the day if Denard is healthy he will let Denard be Denard to win games.
As Always, Go BLUE.