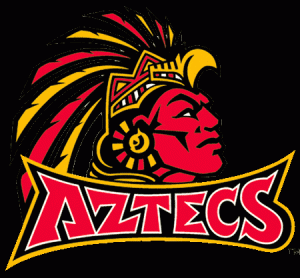 Preview: San Diego State University
Who:
San Diego State (Line -10.5)
What:
Brady Hoke left this school for ours fergodsakes
When:
12:00 eastern. Big Ten Network
Where:
Big House
Weather:
67 40% chance of rain
Offense vs. Aztecs
The Aztec D comes into this match-up 80th nationally, allowing 383 yds/gm. The rushing defense is 99th in the country giving up 197 yds/gm. Passing the Aztecs look better, 36th nationally allowing just 186 yds/gm through the air. Those rushing numbers could be skewed as, Army compiled 407 yds on the ground against SDSU. Army is a triple option team and only being 1 of like 2 teams in the country that still runs that crazy scheme gives them a schematic advantage. Cal Poly doesn't count and Washington State was mostly held in check rushing the ball, they were also held in check against UNLV so there's that. SDSU runs that 3-3-5 thing we attempted to run on defense last year, but their coach Rocky Long actually knows how to run it. Michigan needs to run what they are good at because not doing so will make the 3-3-5 look like a plausible defense with zone-blitzes coming from places the O-line most likely won't be able to pick up.
SDSU's defense returns 5 from a defense that finished 44th nationally last season. Their glaring weakness that Michigan should be able to exploit is on edges where the Aztec roster has only 1 DE out of their top 4 over 250 lbs. Taylor Lewan should hopefully be bulldozing lanes all day. Does Al Borges line up under center or use that Denard Robinson guy like he's supposed to? I hope the latter. He seemed to get the hang of it last week and from what I saw had great play-calling with the succession of zone-read plays.
It'll be nice if Michigan can run the ball effectively, because I am getting agitated watching Denard learn footwork on the fly. Borges' new found love of the spread will hopefully filter into the passing game as well. I'd like to see more hitches, curls, bubble screens, and the things that made our passing game mildly effective last season. This season other than jump-ball bombs it has not been. Washington State was able to get big plays last week on the deep ball so if needed it appears that will be there for Michigan. I hope we don't need it. If it is, look for Junior Hemingway to have a monster day.
What To Watch For:
Taylor Lewan and Mark Huyge blowing up tiny DE's allowing Denard and presumably Vincent Smith to run wild.
Defense vs. San Diego State
The Aztec offense is lead by Sr. QB Ryan Lindley and Soph. RB Ronnie Hillman. Hillman was 10th in the nation in rushing and Lindley has a cannon arm. Lindley lost his top 4 WR's from last year thanks to the NFL draft, graduation, and injury. Hillman picked up right where he left off and is the nations second leading rusher. Michigan's defense just got gashed for over 4 YPC against Eastern and appears to only be able to stop 3rd down halfback draws against Notre Dame. Hillman scares me.. SDSU also returns 4 lineman from last season as well.
The Michigan rush defense has had a tough time holding contain on the edges this season. Roh, Black, and whomever else line up at DE need to keep contain. The LB's have had a tough time being consistent and with a back like Hillman, keeping contain and gap coverage is more vital than normal. Did I mention this facet of the game really frightens me? Mattison has shown ample ability to be able to adjust on the fly this year so hopefully the D won't be getting gashed too long before we find a way to slow Hillman down.
Lindley is throwing a pedestrian 207 yds a game. As mentioned Lindley doesn't have the same targets he had last season and when you have the nations second leading rusher, ride that horse right? Michigan's secondary is better than they were a year ago if only because they couldn't get any worse. But for reals, they are noticeably better and are doing more than just standing and watching on the field. Michigan's major task here will be applying pressure. Eastern didn't throw the ball and Michigan adjusted well to Carder and Western but were in able to do so against ND. San Diego State's O-line is experienced and good but hopefully not as good as ND's.
What To Watch For?
Brady Hoke is a defensive guy and knows this offense better than any other coach in the country. Hopefully he can give Mattison some pointers. Mattison adjustments vs. Hillman running game will be the major match-up on the day. If SDSU is pounding the rock all day and getting big chunks it could be a long day in the big house. If Michigan is to even moderately contain SDSU I like our chances.
Special Teams:
Gallon has proven to be a solid punt-return man which is good. I'm not sold on Vincent Smith being the kick-off return man but the jury is still out. Kick-off and punt coverage is scary. Michigan is 1-1 on field goals right now. I don't care that it was a glorified PAT, after last season I will take it.
As always, Hold on to ball and please do not give up any crushing returns.
Prediction:
I hate myself as a fan sometimes and get extremely nervous for these types of games. Brady Hoke knows this team and is going to have a good idea of what they are trying to do. For this reason alone, I give Michigan the edge. Hillman and Lindley will move the ball for SDSU but so will Denard & Co. I like this one to be a little more high scoring and I think Vegas is crazy on giving Michigan 10.5. This hasn't been touched on yet, but the time change should have an effect on SDSU's performance. Here's to hoping Hillman is sleeping the whole game. I am going with
34-31
, Meeeechigan.